The central aim of Sussex Health Outcomes, Research & Education in Cancer (SHORE-C) is to conduct pragmatic research in psychosocial oncology. Our work includes:
Measuring Quality of Life (QoL) in clinical trials of cancer therapy

Designing Patient Reported Outcome (PRO) measures

Developing and evaluating interventions to help patients deal with treatment side-effects

Producing educational materials and helping to improve communication skills of Cancer Healthcare Professionals
Professor Dame Lesley Fallowfield describes the survey:
A huge welcome to our new Senior Research Fellow, Sally Wheelwright!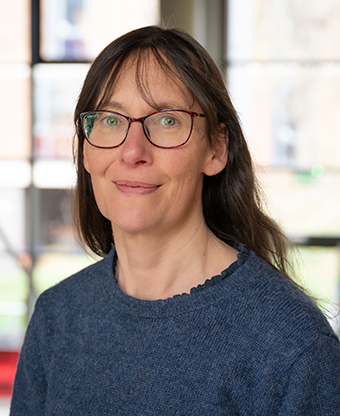 Dr Wheelwright's research interests centre round supporting self-management of nutritional care in people with cancer and long term conditions, along with quality of life assessment, health literacy and developing digital interventions. Read more about Dr Wheelwright's background and research here.
BCRF podcast with Professor Dame Lesley Fallowfield
Prof Fallowfield discusses improving communication between healthcare professionals and patients to empower women to make informed decisions after diagnoses on the latest Breast Cancer Research Foundation (BCRF) podcast, 'Investigating Breast Cancer'. Listen to the podcast.
Professor Dame Lesley Fallowfield In Conversation at the RSM
Recorded on Wednesday 21 April 2021 as part of The Royal Society of Medicine's In Conversation Live series, Professor Dame Lesley Fallowfield DBE, Director of Sussex Health Outcomes Research & Education in Cancer (SHORE-C), and Professor of Psycho-Oncology, joined Professor Roger Kirby, RSM President, for a fascinating discussion about her successful career, how her principal research contributions have enabled the measurement of quality of life via clinical treatment trials, how psycho-oncology and improving communication skills of medical professionals can vastly help cancer patients and her view on the oncology provisions for patients during the COVID-19 pandemic.
SHORE-C celebrates two decades on Sussex campus
SHORE-C have been on the University of Sussex campus for 20 years! Read the University of Sussex news item. and Val Jenkins' interview with 'My Sussex Life'.
Remote consultations for cancer patients to be evaluated
The COVID-19 pandemic has rapidly ushered in changes to the cancer consultation experience for patients and clinicians. To accommodate social distancing, the traditional way of meeting in person in a clinic room is now the exception, with most discussions conducted by telephone or video-link, commonly referred to as 'remote consultation'. For both parties this means new ways of communicating and interacting.
SHORE-C is carrying out a service evaluation of remote consultations, led by Dr Sue Catt with collaboration from clinical colleagues (Dr Richard Simcock and Dr Leroy Okonta), and called REFLECTIONS (REmote Follow-up consultations: Lessons and Experiences during Covid-19 Time In ONcology Services).
The REFLECTIONS evaluation aims to highlight the benefits and challenges of remote consultations from the perspectives of oncologists and their patients. Over the next six months, one-off interviews, lasting about 45 minutes, will be conducted with a sample of patients treated by the Sussex Cancer Centre and consultants who work there. Ethical approval is in place, recruitment opened this week and the first few patients approached have expressed interest in participating.
Dr Catt said: "The findings of our evaluation will be used to identify areas that could be improved and positive elements that may be capitalised on to ensure consultations in the future get maximum benefit from alternative ways of working." (article from InPulse, BSMS internal weekly newsletter, issue 219, 09 October 2010)
Dame Lesley has been made an Ambassador for the Martlets Hospice in Hove
Dame Lesley has been made an Ambassador for the Martlets Hospice in Hove. Commenting on the appointment, she says: "I have always been an enormous admirer and supporter of the hospice movement having been encouraged as a young researcher by Dame Cicely Saunders herself who started the hospice movement in the UK. I was then really privileged to work with Professor Colin Murray-Parkes at the Royal London Hospital who did pioneering research at St Christopher's Hospice on loss and bereavement. Few people realise that hospices get very little of their funding from the NHS and are dependent on the generosity of the general public. The COVID pandemic has led to huge financial difficulties for the Martlets and other hospices with the cancellation of fun runs, marathons, closure of charity shops and other events such as the Halloween Ball. Along with my other illustrious Ambassadors I hope that we can work with the fundraising team to ensure that the vital amazing work of our local hospice can continue."
Certificate in Counselling Studies for Lucy
Lucy Matthews, our Clinical Trials Coordinator, has passed her Level 3 Certificate in Counselling Studies. Lucy will now begin a part-time Postgraduate Diploma in Psychodynamic Psychotherapeutic Counselling at the University of Brighton.
Falmer Magazine features the work of Professor Dame Lesley Fallowfield and SHORE-C.
"Ensuring that people aren't fatigued, depressed or feeling sick shouldn't be a luxurious add-on." Read the article here
Rachel appointed as media representative for BPOS
Rachel Starkings
, Research Fellow here at SHORE-C, has been appointed as a media representative to the British Psychosocial Oncology Society (BPOS) executive committee. This is a three-year appointment and she'll be sharing the role with Dr David Wright, a Senior Research Fellow at the Macmillan Survivorship Research Group. The committee is always looking for new ways to engage people so Rachel hopes this will be an exciting challenge.
Find out more about the committee here.
(article from inPulse - BSMS internal e-newsletter - Issue 207 - 26 June 2020)
British Psychosocial Oncology Society (BPOS) Conference, Edinburgh 2020
Professor Dame Lesley Fallowfield
gave a talk on
'Helping nurses discuss risk and uncertainty about chemotherapy with early breeast cancer (EBC) patients: results from novel educational workshops'
Several SHORE-C researchers attended the BPOS conference in Edinburgh where they all presented posters about our current research.
"Clinical Impact of the Predict Prostate Risk Communication Tool in Men Newly Diagnosed with Nonmetastatic Prostate Cancer: A Multicentre Randomised Controlled Trial " European Urology Published online 04 September 2021
**********
"The Prospective Observational Cohort and the Nested Randomized Controlled Trial in the Pulmonary Metastasectomy in Colorectal Cancer (PulMiCC Study) Question the Reliance on Existing Evidence for the Magnitude of Benefit From Lung Metastasectomy " American Journal of Clinical Oncology Published 01 September 2021
**********
"Pulmonary Metastasectomy in Colorectal Cancer burden of care study: analysis of local treatments for lung metastases and systemic chemotherapy in 220 patients in the PulMiCC cohort " Colorectal Disease Published online 26 June 2021
**********
"Gaps in Care and Support for Patients With Advanced Breast Cancer: A Report From the Advanced Breast Cancer Global Alliance " JCO Global Oncology Published online 22 June 2021
**********
"Preference for the fixed-dose combination of pertuzumab and trastuzumab for subcutaneous injection in patients with HER2-positive early breast cancer (PHranceSCa): A randomised, open-label phase II study " European Journal of Cancer Published 16 June 2021
**********
Ovarian cancer population screening and mortality after long-term follow-up in the UK Collaborative Trial of Ovarian Cancer Screening (UKCTOCS): a randomised controlled trial
A large-scale randomised trial of annual screening for ovarian cancer did not succeed in reducing deaths from the disease, despite one of the screening methods tested detecting cancers earlier. The results of the trial have now been published in The Lancet 12 May 2021.
SHORE-C worked on the psychosocial aspects of the trial over the past 20 years, carrying out psychosocial assessments on more than 187,000 women. Read the press releases from UCL and BSMS.
**********
"A structured review of quality of life in advanced and high‐risk cutaneous squamous cell carcinoma shows the need for more studies and better measures " Skin Health and Disease Published 07 May 2021
"The Pulmonary Metastasectomy in Colorectal Cancer cohort study: Analysis of case selection, risk factors and survival in a prospective observational study of 512 patients " Colorectal Disease Published 30 March 2021
"The management of sexual dysfunction resulting from radiotherapy and androgen deprivation therapy to treat prostate cancer: A comparison of uro‐oncology practice according to disease stage " International Journal of Clinical Practice Published online 19 March 2021
"Performance Characteristics of the Ultrasound Strategy during Incidence Screening in the UK Collaborative Trial of Ovarian Cancer Screening (UKCTOCS) " Cancers 2021, Special Issue Gynaecological Cancers Risk: Breast Cancer, Ovarian Cancer and Endometrial Cancer, Published 18 February 2021
"An online review of informational sources for advanced or high-risk cutaneous squamous cell carcinoma " Supportive Care in Cancer, Published online 08 February 2021
"Enhancing your 'webside' manner: communication during COVID‐19 " Trends in Urology and Men's Health, Published online 26 January 2021
"Completeness and accuracy of national cancer and death registration for outcome ascertainment in trials—an ovarian cancer exemplar " BMC Trials, Published online 25 January 2021
"The fallacy of large survival gains from lung metastasectomy in colorectal cancer " The Lancet, Correspondence, 9–15 January 2021
"The management of sexual dysfunction resulting from radiotherapy and androgen deprivation therapy to treat prostate cancer: A comparison of uro‐oncology practice according to disease stage " The International Journal of Clinical Practice, Published online 01 December 2020
"Communicating the oncotype DX® test results: A novel educational workshop for specialist breast care nurses " European Journal of Oncology Nursing, Letter to the Editor, First published online October 2020 for Volume 49, December 2020 Issue
"Pulmonary metastasectomy in colorectal cancer: health utility scored by EQ-5D-3L in a randomized controlled trial show no benefit from lung metastasectomy " Colorectal Disease, Open Access Article, Published online 01 October 2020
"The management of hot flushes for men treated with androgen deprivation therapy for prostate cancer: a survey of UK practice " Acupuncture in Medicine, Letter, Published online 07 October 2020
"5th ESO-ESMO international consensus guidelines for advanced breast cancer (ABC 5) " Annals of Oncology, Special Article, Published online 23 September 2020
"From Subject to Fellow Researcher: Reconceptualising Research Relationships to Safeguard Potentially Vulnerable Survey Participants " The American Journal of Bioethics, Published online 18 September 2020
"Using patient perspectives to inform communication training materials for health care professionals discussing BRCA mutation testing " Breast Cancer Research and Treatment, Open Access article, First published online August 2020
"The development and initial evaluation of the Diarrhoea Management Diary (DMD) in patients with metastatic breast cancer " Breast Cancer Research and Treatment, Open Access article, First published online July 2020
"Ovarian cancer symptoms, routes to diagnosis and survival – Population cohort study in the 'no screen' arm of the UK Collaborative Trial of Ovarian Cancer Screening (UKCTOCS) " Gynecologic Oncology, Open Access article, First published online June 2020
"A systematic review of communication interventions to help healthcare professionals discuss genetic testing for breast cancer " Breast Cancer Research and Treatment, Open Access article, 23 June 2020
"The myth of pulmonary metastasectomy " British Journal of Cancer, Short communication, 16 June 2020
"Rapid response to: Colorectal cancer: summary of NICE guidance " The BMJ, Letter to the Editor, 12 June 2020
"Digital health for optimal supportive care in oncology: benefits, limits, and future perspectives " Supportive Care in Cancer Open Access article, 12 June 2020
"The affect of goserelin on the QoL of women having chemotherapy for EBC: Results from the OPTION trial " The Breast Open Access article first published online May 2020