IN THE NEWS
Planting the Seeds for Future Women Leaders in Medicine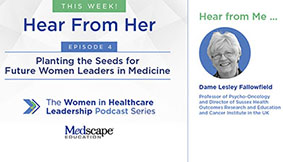 Professor Dame Lesley Fallowfield was recently invited to speak as part of Medscape Education's The Women in Healthcare Leadership Podcast Series. The series explores the qualities needed to be a great leader in oncology and challenges the lack of recognition given to women in the health sector. The podcast's aim is to amplify women's voices in healthcare and advocate for gender diversity and equity of access to life-transforming research and medicines. Professor Fallowfield's episode is entitled: It's Time to Hear From Her: Planting the Seeds for Future Women Leaders in Medicine. The full podcast is available to listen to here: Planting the Seeds for Future Women Leaders in Medicine (medscape.org)
More News from the ABC Global Alliance Conference in Lisbon
Professor Fallowfield spoke on the treatment of metastatic breast cancer, and also ran a workshop on prognosis and end of life care predominantly for patients and patient advocates.
Winning Poster at ABC7
Professsor Dame Lesley Fallowfield and Professor Val Jenkins are at the Advanced Breast Cancer Conference in Lisbon this weekend (9th-11th November) and Val's poster has won a best poster prize!
Anna's Baby Shower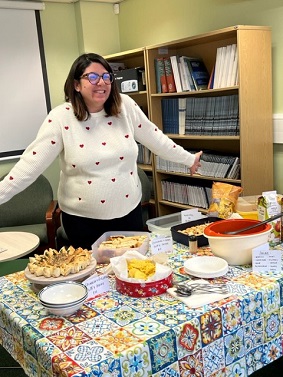 Anna Neri, our Assistant Administrator, is leaving us for a while to have a baby. We enjoyed her delicious cooking at lunchtime today. We will miss her, but wish her the best of luck and all happiness with her baby daughter!
Dr Sally Wheelwright and Dr Valerie Shilling at HRP conference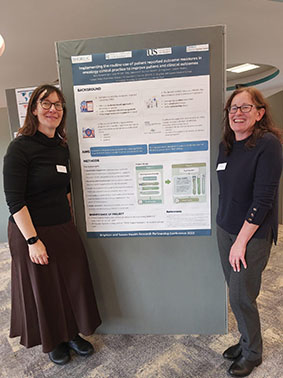 The SHORE-C team are attending the Brighton and Sussex Health Research Partnership Conference today. More information about the Sussex Health Research Partnership
Estée Lauder's 2023 Breast Cancer Campaign Launch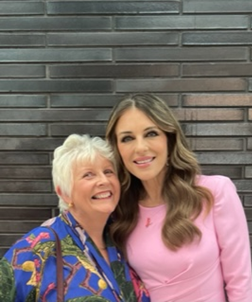 Professor Dame Lesley Fallowfield was recently invited to attend Estée Lauder's 2023 launch of its Breast Cancer Campaign. The campaign aims to unite and inspire people globally in its mission to help create a breast cancer-free world. The public is invited to support the campaign by engaging with the hashtag '#TimeToEndBreastCancer' as Estée Lauder companies say that we need to be 'beautifully united to help end breast cancer.'
The event was hosted by Elizabeth Hurley who is Global Ambassador of The Estée Lauder Companies Breast Cancer Campaign. Estée Lauder Companies have been a partner of the Breast Cancer Research Foundation since 1994. Funds raised by the Breast Cancer Campaign support the research of BCRF – Professor Dame Lesley Fallowfield is one of the BCRF supported investigators and is in receipt of $225,000 annual grant.
New Decision Aid
A web-based patient decision aid for people living with MND making a decision about whether to have a gastrostomy tube is now freely available to all via the MND Association website. Gastrostomy tube – is it for me? can be directly accessed here.
The film above provides a short introduction to the project and decision aid and you can read the peer-reviewed publication here. The decision aid was produced as part of the DiAMoND study, led by Dr Sally Wheelwright. Dr Wheelwright said: "People who have MND are faced with many difficult decisions about their care, including whether to have a gastrostomy tube. Gastrostomy tube – is it for me? is a resource which can supplement conversations with healthcare professionals during the decision-making process and help individuals to come to the right decision for them."
They just don't know what to say or do
We have released a film "They just don't know what to say or do" looking at experiences, support needs and quality of life of women living with metastatic breast cancer, and aimed at helping their families and friends. The film uses quotes from the answers that patients gave to the question 'What did family or friends say or do that helped or hindered?' in our recent LIMBER survey. Professor Jenkins, who led the film production, said: "Unfortunately even individuals who may care deeply and wish to be helpful often do not know what to say or do when someone has disease which, although still treatable, can no longer be cured. Their actions and words can make their loved ones with cancer feel hurt, misunderstood or abandoned." In the film Professor Fallowfield discusses these problems with Lesley Stephen, a mother of 4 children, who was diagnosed with secondary breast cancer in 2014 and given a life expectancy of one to two years. (07 Aug 2023)
You can read more about the study and the film on the BSMS website - here.
Participants needed!
Researchers at SHORE-C (Brighton and Sussex Medical School) are looking for people with breast cancer to take part in a telephone interview for their views about receiving genetic test information and results online. The findings will help doctors introduce this in their clinics and improve accessibility for under-served patients.
We are looking for people with breast cancer (past or present diagnosis) who are: 70 years or older and/or from a non-white ethnic background and/or disadvantaged background (for example low household income).
You don't have to have experience with genetic testing to take part!
If you are interested, please contact adminshore-c@sussex.ac.uk or 01273 873019. We offer a £25 voucher for participation.
Professor Fallowfield blogs about her recent involvment with BodySwaps, specifically about training HCPs to be better at communicating with angry patients. Read the blog here.
Using virtual reality to navigate difficult converstations
To read more about the work Professor Dame Lesley Fallowfield has been doing with the RSM and BodySwaps to develop a virtual reality training program in navigating difficult conversations for doctors and medical students you can see the artciles on the Unversity of Sussex and Royal Society of Medicine websites.
Cancer Research Symposium 2023
Professor Fallowfield and Professor Jenkins gave a talk at the NIHR Cancer Research Symposium in Exeter, Devon, UK. The talk was entitled 'The Importance of Teams Talking Trials'.
British Breast Group Annual Conference (22 to 23 June 2023)
We were one of the main organisers of this very successful annual meeting held at the Mercure Hotel in Brighton. The meeting was attended by 85 participants and held over two days (22nd-23rd June). There were diverse presentations and many good updates on diagnostics and treatments.
Professor Fallowfield delivered one of the plenary talks entitled 'Communication – Past, present and future'. Other speakers included Professor Fiona Gilbert on the use of artificial intelligence in breast imaging, Professor Diana Eccles on genetic predisposition and decision making, Professor Peter Schmid on immunotherapy in breast cancer and Mr Stuart McIntosh on local treatment and de-escalation studies.
Dr Sally Wheelwright with other contributers to her Cachexia session at the MASCC Conference in Japan
Dr Sally Wheelwright was at MASCC in Japan talking about the role of psychological care in cancer cachexia. Her key message is that all health care professionals can provide it and it's essential for patients and caregivers
Professor Dame Lesley Fallowfield tells us about the latest Bodyswaps module, created in collaboration with the Royal Society of Medicine - Also:-
Communication skills using virtual reality Scholarships
The Royal Society of Medicine is delighted to offer four inaugural Thompson Family scholarships of £5,000 each. Applicants will be invited to conduct a piece of research related to an innovative communication skills programme for healthcare professionals using virtual reality.
"Removal or ablation of asymptomatic lung metastases should be reconsidered " BMJ Published 09 November 2023
**********
"Patients' views and experiences on the supported self-management/patient initiated follow up pathway for breast cancer " Supportive Care in Cancer Published 27 October 2023
**********
"Recruiting women with ductal carcinoma in situ to a randomised controlled trial: lessons from the LORIS study " Trials Published 14 October 2023
**********
"The impact of jejunostomy feeding on nutritional outcomes after oesophagectomy " Journal of Human Nutrition and Dietetics Published October 2023 Graphical abstract available here
**********
"Patients' experiences of a suppoRted self-manAGeMent pAThway In breast Cancer (PRAGMATIC): quality of life and service use results " Supportive Care in Cancer Published September 2023
**********
"Tumour stage, treatment, and survival of women with high-grade serous tubo-ovarian cancer in UKCTOCS: an exploratory analysis of a randomised controlled trial " Lancet Oncology Published September 2023
**********
"Development of 'Gastrostomy tube – Is it for me?', a web-based patient decision aid for people living with motor neurone disease considering having a gastrostomy tube placed " Amyotrophic Lateral Sclerosis and Frontotemporal Degeneration Published July 2023
**********
"Living with metastatic breast cancer (LIMBER): experiences, quality of life, gaps in information, care and support of patients in the UK " Supportive Care in Cancer Published July 2023
**********
"Mortality impact, risks, and benefits of general population screening for ovarian cancer: the UKCTOCS randomised controlled trial " Health Technology Assessment 2023 Published May 2023
**********
"Domestic Abuse in the Context of Life-Limiting Illness: A Systematic Scoping Review Health & Social Care in the Community Published 10 April 2023
**********
"A digital pathway for genetic testing in UK NHS patients with cancer: BRCA-DIRECT randomised study internal pilot " Journal of Medical Genetics Published 22 July 2022
**********
"Talking about Risk, UncertaintieS of Testing IN Genetics (TRUSTING): development and evaluation of an educational programme for healthcare professionals about BRCA1 & BRCA2 testing " British Journal of Cancer Published 17 June 2022
**********
"The role of patient-reported outcome measures in the continuum of cancer clinical care: ESMO Clinical Practice Guideline " Annals of Oncology Published 21 April 2022
**********
"Health-related quality of life in patients with COVID-19; international development of a patient-reported outcome measure " Journal of Patient-Reported Outcomes Published 26 March 2022
**********
"Developing Cancer Quality of Life Assessment Tools " Handbook of Quality of Life in Cancer Book Chapter, Published 26 March 2022
**********
"Modifiable pre-treatment factors are associated with quality of life in women with gynaecological cancers at diagnosis and one year later: Results from the HORIZONS UK national cohort study " Gynecologic Oncology Published 26 March 2022
**********
"A fascinating time to be involved with research' Exploring the impact of COVID-19 on postgraduate psycho-oncology researchers " Psycho-Oncology Published 19 January 2022
**********
"IMPARTER, Phase 1 of an intervention to improve patients' understanding of gene expression profiling tests in breast cancer " Breast Cancer Research and Treatment Published 04 January 2022
**********
CURRENT RESEARCH
BRCA-DIRECT 2: SBRI Project - BRCA-DIRECT2

IMP

act of

A

bema

C

iclib on patien

T

s' r

O

les and

R

esponsibilities - IMPACTOR

IM

proving

PA

tient unde

R

standing of GEP

TE

st

R

esults: Phase 4 - IMPARTER: Phase 4
LIving with Metastatic Breast CancER - development of support tools to address the unmet information needs of caregivers - LIMBER FILM DEVELOPMENT
A Phase III trial of surgery versus active monitoring for LOw RISk DCIS Trial - LORIS

P

erceptions and

E

xperiences of

A

bemaciclib and

E

ndocrine

T

herap

Y

- PEATY
POsitive Sentinel NOde: adjuvant therapy alone versus adjuvant therapy plus Clearance or axillary radiotherapy - POSNOC
Quality of Life After Bladder Cancer - Q-ABC
Repeated Drainage inUntreatable Cirrhosis: A Randomised Controlled Trial - REDUCe2
Talking about Risk and UncertaintieS of Testing IN Genetics - TRUSTING WORKSHOPS