NEWS
SHORE-C need Volunteers to Review New Film
Based on quotes from patients the SHORE-C research team have developed an information film to help friends and family of those living with advanced, metastatic and secondary breast cancer who just don't know what to say or do. Before it is released the film needs to be reviewed by members of the public. We are looking for 40 volunteers to watch the 25-mins film and then provide feedback during a short telephone call. All volunteers will receive a £25 gift card for their support. if interested please contact adminshore-c@sussex.ac.uk
New Commission from Hoffman La Roche
The SHORE-C team have been commissioned by Hoffman La Roche to create written patient information materials based on the 2022 film "Managing Side Effects of Hormone Treatments for Breast Cancer" produced by SHORE-C.
The contents will be short summaries of the common side effects from hormone treatments for breast cancer and suggestions of interventions that have been shown to help. The project will also involve the development /adaptation of a standardised questionnaire that patient navigators can use with patients to monitor adherence to treatment. This is important to ensure patients take their tablets regularly to reduce their risk of recurrence.
SHORE-C is collaborating with Prof Clare Turnbull of the Institute of Cancer Research who has been awarded £1.9 million to implement BRCA-DIRECT. BRCA-DIRECT is a digital pathway for germline genetic testing in women with breast cancer and involves a digital platform, postal service for saliva-sampling and a telephone hotline with genetic counsellors. Implementation into front-line settings means that more patients can benefit from genetic testing for high-risk cancer genes. The funding is provided through the 'Innovation Open call' which was led by the NHS Cancer Programme, supported by SBRI Healthcare and the Accelerated Access Collaborative. See article here for details of the award and other prize winners.
Enhancing your 'Webside' Manner
Professor Dame Lesley Fallowfield is in Austria this week delivering a keynote speech at the CCC-TRIO 2023 – New Frontiers in Translational Research and Immuno-Oncology Symposium. Her speech, entitled "Digital Health for Optimal Supportive Care: Enhancing your 'Webside' Manner", will be at 2.00pm on Friday 28th April.
SHORE-C TEAM
Our latest team photo taken outside our Unit on the University of Sussex campus in April 2023. See more information about our researchers and staff here.
Welcome to Dr Val Shilling
Welcome back to Dr Val Shilling who has joined us this week. Val has been working as the Programme Manager, Quality of Life, for the NHS Cancer Programme. We're looking forward to working with her in her new post as Senior Research Fellow
Dr Sally Wheelwright from SHORE-C has recently given three conference presentations surrounding her work on the DIAMoND project. The DiAMoND project involved the development of a web-based decision aid to help people with motor neurone disease decide whether to have a gastrostomy tube fitted. The decision aid, Gastrostomy tube - is it for me? is now available on the MND Association website. Dr Wheelwright gave oral presentations at the Palliative Care Congress in Edinburgh and at the virtual Marie Curie Palliative Care Research Conference (available to watch here). Dr Wheelwright also presented a poster at the BAPEN2022 conference for which she won the Professor RG Clark Prize for best poster.
Helping patients understand their risk of recurrence scores
Professor Dame Lesley Fallowfield gave a webinar talk on 1st March as part of an educational program on molecular gene expression testing, entitled "Helping patients understand their risk of recurrence scores". Professor Fallowfield's presentation discussed SHORE-C's successful TARGET educational programme in the UK, the IMPARTER study and various psychological aspects of communication about risk and uncertainty. The webinar recording is available to watch on YouTube below:
Read more about our current IMPARTER 4 study here.
Welcome Anna, our new Assistant Administrator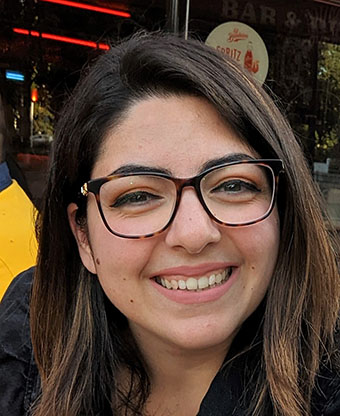 This week we welcomed Anna Neri to the SHORE-C team. She will be working as our new assistant administrator alongside Holly in the office. If you are calling or visiting the unit do say hi!
WMUK Webinar
Professor Dame Lesley Fallowfield gave a webinar talk on Thursday 9 March - "Talking to your clinician - getting the most out of your appointment" - for WMUK. Waldenstrom's Macroglobulinaemia is a rare kind of blood cancer. Watch the talk on YouTube:-
You can find out more about WMUK here.
DiAMonD Study Presentation, Edinburgh
On Friday 17 March, Dr Sally Wheelwright will give an oral presentation about the DiAMond Study at the Palliative Care Congress in Edinburgh. The study developed and tested a web-based patient decisiion aid to help people living with motor neurone disease choose whether to have a gastrostomy tube fitted. The decision aid, Gastrostomy tube - is it for me?, is now hosted by the Motor Neurone Disease Association and is free to use.
Professor Dame Lesley Fallowfield will advise on course content in a new partnership between The Royal Society of Medicine and the edtech company, Bodyswaps. The partnership will develop exclusive healthcare training simulations powered by artificial intelligence (AI) and virtual reality (VR). Read more on the RSM website.
A big welcome to Qi, our new Research Fellow
Qi joined us this week after studying and working in Malaysia, Australia and the UK. She will be working with Dr Sally Wheelwright on various projects around patients' nutrition management, and in general on issues around patient self-management. Welcome to SHORE-C!
NEW: "Mortality impact, risks, and benefits of general population screening for ovarian cancer: the UKCTOCS randomised controlled trial " Health Technology Assessment 2023 Published May 2023
**********
NEW: "Domestic Abuse in the Context of Life-Limiting Illness: A Systematic Scoping Review " Health & Social Care in the Community Published 10 April 2023
**********
"A digital pathway for genetic testing in UK NHS patients with cancer: BRCA-DIRECT randomised study internal pilot " Journal of Medical Genetics Published 22 July 2022
**********
"Talking about Risk, UncertaintieS of Testing IN Genetics (TRUSTING): development and evaluation of an educational programme for healthcare professionals about BRCA1 & BRCA2 testing " British Journal of Cancer Published 17 June 2022
**********
"The role of patient-reported outcome measures in the continuum of cancer clinical care: ESMO Clinical Practice Guideline " Annals of Oncology Published 21 April 2022
**********
"Health-related quality of life in patients with COVID-19; international development of a patient-reported outcome measure " Journal of Patient-Reported Outcomes Published 26 March 2022
**********
"Developing Cancer Quality of Life Assessment Tools " Handbook of Quality of Life in Cancer Book Chapter, Published 26 March 2022
**********
"Modifiable pre-treatment factors are associated with quality of life in women with gynaecological cancers at diagnosis and one year later: Results from the HORIZONS UK national cohort study " Gynecologic Oncology Published 26 March 2022
**********
"A fascinating time to be involved with research' Exploring the impact of COVID-19 on postgraduate psycho-oncology researchers " Psycho-Oncology Published 19 January 2022
**********
"IMPARTER, Phase 1 of an intervention to improve patients' understanding of gene expression profiling tests in breast cancer " Breast Cancer Research and Treatment Published 04 January 2022
**********