Congratulations to Professor Val Jenkins!
Da iawn!! Our very own Professor Valerie Jenkins has been made a professor - the Dame says 'Richly deserved and well overdue!!!'
Umberto Veronesi Award for Prof Dame Lesley Fallowfield
Dame Lesley will be awarded the Umberto Veronesi Foundation prize at next year's St Gallen International Breast Cancer Conference, which will take place in Austria in March 2019. Prof Veronesi, who died in 2016 aged 90, contributed enormously to the research showing that all women with breast cancer did not necessarily need to have a mastectomy. Prof Dame Fallowfield is being given the award in recognition of her leading role in advancing science and care of breast cancer patients. Commenting on the award, she said: "I am absolutely thrilled and immensely proud that the Awards Committee have nominated me, a psycho-oncologist rather than a surgeon, for this prestigious award. I knew Prof Veronesi well and he was always very kind and encouraging to me in the early stages of my career. I am sure that the title of my talk 'how heretical thoughts and challenging orthodoxy improves breast cancer care' would make him smile."
SHORE-C at ISPOR
Dr Val Shilling presented a poster at the 20th annual European Congress of International Society for Pharmacoeconomics and Outcomes Research in Glasgow on 8th November 2017. 
The poster titled "Evaluation and validation of the PROACT measures for cancer patients and informal caregivers" describes the development of two new scales measuring broad life impacts of cancer and cancer treatment for patients and informal caregivers.
SHORE-C at BPOS
Best poster prize for Lucy Matthews for her AVALPROFS poster. What a great end to a great conference!
PROACT 'lucky' construct poster at BPOS
SHORE-C and CU Fitter
Sue Catt explaining the CUFitter poster at the BPOS conference.
SHORE-C researchers are collaborating with Cancer United, a cancer patient support group based in Littlehampton.
Patient Reported Outcomes
Dame Lesley is quoted in a recent Medicine Matters Oncology online article titled 'The time is right for Patient Reported Outcomes'
SHORE-C and CU Fitter
SHORE-C researchers are collaborating with Cancer United, a cancer patient support group based in Littlehampton. Their CU Fitter initiative was recently covered by ITV Meridian news on 29th January 2017. Click here to view the ITV Meridian News item
Cancer Survivorship Conference
Professor Dame Lesley Fallowfield and Dr Val Shilling presented posters at the ASCO Cancer Survivorship Symposium: Advancing Care & Research in San Diego California on 28th January 2017. To view the posters, click on the titles below:
Do drugs that offer PFS or modest OS benefits improve quality of life in patients with advanced cancer?  
Uncertainty about the future for patients with advanced cancer and their informal caregivers: A qualitative view.
Measuring the impact of extended cancer survival on broader aspects of life and wellbeing: The PROACT Study.
PROACT poster at ISOQOL
Dr Val Shilling presented a PROACT poster at the International Society for Quality of Life Research (ISOQOL) 23rd Annual Conference in Copenhagen, Denmark. Read more on the PROACT page.
Rachel Starkings also presented this poster at the Inaugural Postdoctoral Research Day on the 2nd of November 2016. The poster explored the first two phases of the PROACT study and was awarded first prize on the day. More information on the study can be found on the PROACT page.
Photo: Dr Val Shilling
'For services to psycho-oncology' lecture on YouTube
It was a full house for Professor Dame Lesley Fallowfield's lecture 'For services to psycho-oncology' Psycho what?' which took place on 22 September 2016.
Dame Lesley gave a fascinating account of her career to date alongside a parallel history of the field of psycho oncology.

A video of the lecture is now available on YouTube for those who missed the event via this link For services to psycho-oncology
Photo: BSMS Dean Malcolm Reed and University of Sussex VC Prof Adam Tickell with Dame Lesley
New Grant Award
Professor Dame Lesley Fallowfield has been awarded a prestigious Breast Cancer Research Foundation (BCRF) grant of $250,000 annually.
The BCRF is the highest rated breast cancer organisation in the US and eminent researchers are invited to apply for funding. Dame Lesley proposed two distinct projects.
One is to produce a communication-skills DVD/workshop for clinicians discussing genomic test results with breast cancer patients; the other working with Dr Melanie Flint at Brighton University and UK breast oncologists, will examine the psycho-neuroimmunological and biological factors underpinning personalised supportive interventions for women with breast cancer.
Lecture on 22nd September 2016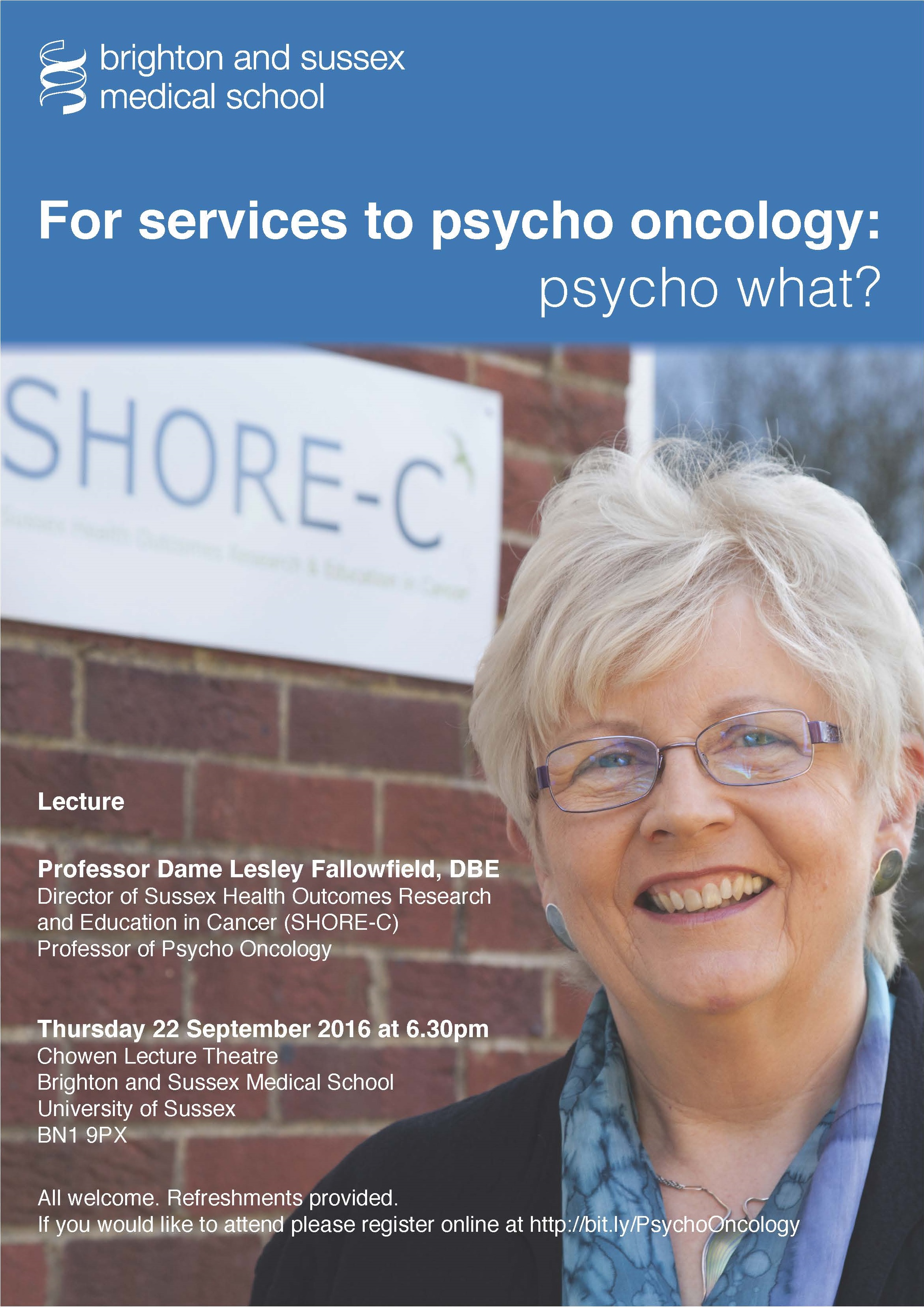 Pilot Workshops 19th & 20th September 2016
Talking with Patients about Metastatic Bone Disease (MBD) workshops were facilitated by Professor Dame Lesley Fallowfield on Monday September 19th (Prostate Cancer) and Tuesday September 20th (Breast Cancer) at the RNLI College in Poole.
The pilot workshops were aimed at clinicians and nurses treating and caring for breast and/or prostate cancer patients with Metastatic Bone Disease (MBD). The workshops used a set of 5 newly created educational videos illustrating different MBD consultations. The scenarios do not show the "right" or "wrong" way to discuss MBD but are used as "triggers" to engage participants in discussion.
PROFESSOR LESLEY FALLOWFIELD MADE DAME
DAME COMMANDER OF THE ORDER OF THE BRITISH EMPIRE - Professor Lesley Jean Fallowfield.
"Professor Fallowfield, Professor of Psycho-Oncology at Brighton and Sussex Medical School, is an exceptional scientist who has transformed the way health professionals communicate with cancer patients and improved their quality of care. She has pioneered quality-of-life assessment in cancer trials and the tools she has developed for this are now used worldwide. Her work has also significantly improved the recruitment of patients into clinical trials. She was Chair of the British Breast Group, which brings together UK experts in breast cancer, and sits on numerous panels, advisory boards and guidelines development groups that aim to ensure quality cancer care for patients."
UK Collaborative Trial of Ovarian Cancer Screening (UKCTOCS) Trial Results
UKCTOCS CC and RC Leads
The UK Collaborative Trial of Ovarian Cancer Screening (UKCTOCS) mortality results and psychological outcomes were published on 17/12/2015 at a public meeting in London and also in the Lancet. To read about the study and for links to the public meeting and publications click Here
2015
01/10/2015
Professor Lesley Fallowfield appeared in the Sky News Sunrise programme on 1st October 2015 as part of the Estee Lauder Companies' UK Breast Cancer Awareness Campaign which asks the difficult question, 'What happens afterwards?'.
To inspire and offer guidance to those who have been affected by breast cancer, The Estée Lauder Companies UK BCA Campaign has published a collection of advice and short anecdotes on returning to 'normality' from real people who have lived through breast cancer. Lesley wrote the foreword to this book titled 'Afterwards, Reflections on Life beyond Breast Cancer' commented: 'It's difficult to appreciate fully the psychological and physical impact the diagnosis and treatment of breast cancer has if you've not been through it. For some it is an emotional catastrophe, for others an opportunity to reappraise many aspects of their lives. This campaign illustrates the different ways -­‐ some poignant, many uplifting, that women and their loved ones can live well through and beyond a breast cancer diagnosis'. Read 'Afterwards' online
Lesley Fallowfield posted this photo of herself with Paula Beetlestone in the Green Room waiting to appear on London Live.

15/09/2015
Professor Lesley Fallowfield is quoted in a BMJ news item titled 'NHS England drops 16 medicines from Cancer Drugs Fund'. Read more
07/09/2015
Professor Lesley Fallowfield participated on the expert panel at the "Health Lies and Videotape" event in Brighton on the evening of Monday 7th September 2015. The event was organised by the Academy of Medical Sciences and sponsored by the Wellcome Trust. More information about this series of events is available on the Academy of Medical Sciences website
27/08/2015
The new LORIS clinical trial website is now live. Click here to view the website. www.birmingham.ac.uk/loris
09/07/2015
SHORE-C are collaborating on a new study to investigate the use of a prognostic tool called EndoPredict® to inform adjuvant chemotherapy decisions in Early Breast cancer. Read more
13/01/2015
Professor Lesley Fallowfield is quoted in two articles relating to changes in the Cancer Drugs Fund recently announced. Please click on the article titles below to read them in full.
"25 cancer drugs to be denied on NHS" in The Telegraph on 12th January 2015
"Cancer patients in Britain may die sooner as drugs cutbacks are imposed" in the Irish Times on 13th January 2015
2014
10/12/2014
A new article is IN PRESS titled "The LORIS Trial: Addressing Overtreatment of Ductal Carcinoma In Situ" in Clinical Oncology. Read more
24/11/2014
A blurring of professional boundaries can affect young cancer doctors' objectivity when treating patients, according our online survey completed by 338 young (under the age of 40 years) oncologists throughout Europe in August. Results showed that 60% felt that if doctors were too empathetic then they could not make objective decisions, while 59% also thought it difficult to be truthful about prognosis if they particularly liked a patient.

Despite this, around a quarter of respondents had treated family members, and a third had treated friends. Most allowed patients to use their first name, and 60% allowed patients to hug or kiss them in greeting or saying goodbye. Such behaviours are not always wrong but could be liable to misinterpretation in a highly charged clinical setting.

Director of SHORE-C and Professor of Psycho-Oncology at BSMS, Lesley Fallowfield, said: "Oncology can be a very emotionally challenging field in which to work. Cancer patients need their doctors to be warm, compassionate and caring but the relationship should not be confused with a social one. Burnout in young oncologists is high, at more than 30%, and often leads to them leaving the profession. Any blurring of professional boundaries can also play a part in the stress faced by oncologists in dealing with patients with a life-threatening illness."

The rise of mobile technology and social media may add to this blurring of boundaries, with more than half (55%) the doctors admitting they had given their personal mobile numbers to patients and 14% even accepting invitations from patients to be 'friends' on Facebook.
Prof Malcolm Reed, the incoming Dean of BSMS, said: "Although these results need replicating, they show a worrying trend. The General Medical Council (GMC) has produced guidance in which these newer risks to the maintenance of professional boundaries are made clear; they need to be promoted to students and young doctors."

Prof Fallowfield agrees and her team will be designing such a programme. She commented: "It is so important that patients have strong and trusting relationships with their doctors during what will most likely be a very emotional and difficult period. Young oncologists clearly understand that and, as our survey shows, often invest a lot of personal time and emotional energy into doing what they believe to be helpful. But to ensure that cancer patients receive the best and most objective treatment, oncologists must look after their own emotional well-being also and recognise that there needs to be a professional line over which one just shouldn't cross."

The commentary is published in the 1st December issue of The Lancet Oncology.
This article was further reported in The Times Health News section on Monday 24th November 2014 and by BBC World Service radio the same morning in the 'World Update' programme (47 minutes 36 seconds into the episode).
07/11/2014
Niamh Foley from University College Cork, Ireland presented her PATI-project development and demonstrate an iPad application for breast cancer patients. Niamh, a graduate of Trinity College Dublin and has been engaged in postgraduate surgical training since 2008. During a full-time MD, Niamh had the opportunity to work with Mr Mark Corrigan, Consultant Breast Surgeon at Cork University Hospital and PATI was developed with financial support from the Translation Research Access Programme in University College Cork School of Medicine.
Patient Accessed Tailored Information (PATI) for Breast Cancer seeks to create a bank of easily understandable online modules explaining to breast cancer patients each step of their treatment using text, graphics and animation. Modules were designed following a patient information needs assessment and in conjunction with the National Adult Literacy Agency, and have been integrated into an online system to which the patient has personal access. At present the content is available through an application on 4 purpose-bought IPads. Patients from the breast care centre in CUH are being actively recruited to partake in a randomised control trial whereby half of the enrolled patients will be given the IPad one week prior to their scheduled operation and will return the IPad at their first post-operative visit. Several tools are being employed to evaluate this resource including:
Mini-Mental Adjustment to Cancer
Hospital Anxiety and Depression Scale
Information Satisfaction Questionnaire
Information Technology Usability Questionnaire
It is anticipated that this system will empower patients, targeting health literacy to reduce anxiety, increasing their knowledge and improving their capacity to consent to medical/surgical intervention.
23/10/2014
New study launched to design, develop and field-test a prototype application for smartphone and tablet use for self-management of postoperative exercises in women with breast cancer
Read more
07/10/2014
LUCY MATTHEWS, Clinical Trials Co-ordinator here at SHORE-C, has won the prestigious ABS (Association of Breast Surgery) Prize for Best Oral Presentation at the Brighton and South East Breast Day. The event was held at the AMEX Stadium on 3rd October. Lucy's talk was on What's in a name: how to accurately describe low grade Ductal Carcinoma in site (DCIS) to patients in relation to the Low Risk DCIS Trial (LORIS) Lucy is the QoL Trial Co-ordinator on the LORIS trial, just opening. The Prize was awarded by ABS Hon Sec Mr Simon Cawthorn.
08/07/2014
The POSNOC Trial Patient Information DVD is available on youtube
Watch the DVD on YouTube
07/05/2014
The POSNOC Trial was launched on Wednesday 7th May 2014
Read more
02/01/2014
Professor Lesley Fallowfield's gave a plenary lecture entitled "Psychosocial/Survivorship Issues: are we doing better?" at the 36th Annual SABCS Dec. 10-14,2013.