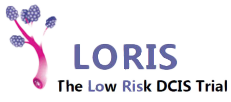 The introduction of mammographic breast screening in the UK has resulted in a dramatic increase in the diagnoses of Ductal Carcinoma in situ (DCIS). This is because DCIS is usually found on mammograms. A diagnosis of DCIS means there are abnormal cells in the milk ducts of the breast that have not invaded the surrounding breast tissue.
DCIS is visualised as specks of white (calcium) seen on mammograms. Pathologically it can be divided into 3 grades – high, intermediate or low. High grade DCIS is more likely to turn into breast cancer, and so it is treated as though it is breast cancer. Low and low/intermediate grade DCIS is different and doctors are uncertain if it would ever become invasive breast cancer.
Only patients with low risk DCIS (i.e. low or intermediate grade DCIS) are eligible to join the LORIS trial.
In the LORIS trial, patients will be randomised to either no surgical intervention (active monitoring) or standard treatment which is surgery. DCIS is a difficult disease to describe and there is conflicting information available to patients on charity websites. A patient friendly DVD will be provided for potential LORIS trial participants, to help provide a concise explanation of DCIS and the trial.
The QoL aspect is integral to this study, due to the fact that a diagnosis of DCIS can provoke significant psychological distress. Patients will be asked to complete questionnaires at different time points that will look at factors that may influence:
Decision to join or reject the trial
Psychological adjustment- anxiety trait and ways of coping
In addition, during the pilot and main study, the impact that either active monitoring or surgery may have on the following will be measured:
Anxiety State (Spielberger State/Trait Anxiety Inventory – STAI)
General well-being (SF-36)
Participants will complete baseline QoL questionnaires prior to randomisation. They will then complete questionnaires 3 times a year (3,6 & 12 months) for the first year and then annually until 5 years. A subset of patients will be invited to participate in a telephone interview to explore their feelings about the trial. These interviews will capture what patients think about the trial, being diagnosed with DCIS and their reasons for entering the trial or not.