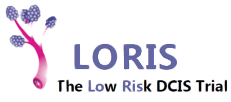 Chief Investigator: Dr Matthew Wallis
QoL Principal Investigators: Professor Dame Lesley Fallowfield, Dr Val Jenkins
Trial Co-ordinator (QoL): Lucy Matthews
Data Manager: Shirley May
Funded by: National Institute for Health Research Health Technology Assessment Programme (NIHR HTA)
A phase III trial of surgery versus active monitoring for Low Risk DCIS (LORIS), incorporating a two year feasibility study. The aim of the main trial is to determine whether women with newly diagnosed low risk DCIS can safely avoid surgery, without detriment to their psychological well-being and can those patients who do require surgery be identified by pathological and radiological criteria.
Here are two clips from the study video - 'What is DCIS?' and 'Why the LORIS Trial is Important'
LORIS Video Clips and DVDs
WHAT IS DCIS?
WHY THE LORIS STUDY IS IMPORTANT